@ToolGuyd How about a review of the new PB Swiss Insider Mini?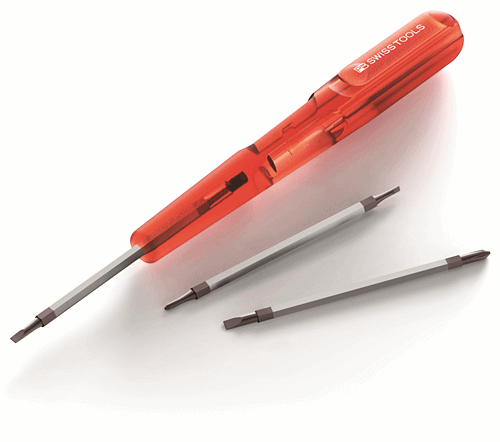 Whoa, that's new to me, thanks!
I have the technician screwdriver and like it a lot.
The Insider Mini looks to have the same form factor, and part of me likes the idea of on-board storage for more double-ended bits. but part of me is annoyed that the Insider Mini doesn't have a cap. The cap makes for easier pocket storage.
It shows 4 blades and says the tool contains 3, which I take to mean can hold 3 in the handle.
I don't see it available via US distributors, but will keep an eye out for it.
I will say this - I don't think I've ever seen a PB Swiss tool that I didn't like.
I saw basic specs and a pic of a new Dewalt 20V Max mower appeared on the TIA forums.
2x 20V batteries (which was a surprise).
Assuming this hits retailers in the spring, I really want to see a review before I buy and ship one back to the UK!!!
That mower doesn't exactly exist, you saw a screen shot from DeWalt Insights, their survey site. It doesn't mean they aren't developing one but I wouldn't get my hopes up either.
Ok, so less developed than I may have hoped but, finally, a ray of hope that a mower is at least on the road map.
I may have to coax my gas mower to last another season!
How about the walabot. I would love to know if it really works
I just saw this featured in our local newspaper. It seems like a great price at about $200. I too am curious how well it works. Only down side ks that you need an android phone to use it.
I'd like to see a cordless caulking gun review. I've seen offerings from Makita, Milwaukee, Dewalt and Ryobi. In fact Makita offers three different configurations, traditional, barrel and enclosed (XGC01Z, XGC01ZB, XGC01ZC- respectively).
I am embarking on a project in the coming weeks to replace all of the baseboards and trim in my house, while adding crown moulding. I am seriously contemplating a 18v caulking gun for fear of ending up with a permanent claw from manually pumping what's sure to be many tubes of caulk.
Of course being entirely on the Makita platform already, I am partial to one of the Makita models, however lately I find myself frustrated, paying more for the most of the Makita line of cordless tools that other manufacturers and might use this time to begin the transition.
Mike, take a look at the M12 gun. For caulk it has more than enough power and you can turn it down to get a nice thin bead. The lighter weight is also helpful if you're working overhead. The 18v models are more appropriate for jobs where you're squeezing out large quantities of material like PL adhesive on 4x8 sheets all day long.
I can't compare to the other models unfortunately.
Thanks RKA for the recommendation!
Tough system radio, after it's dropped from a Crain. That thing is tough and in my opinion it sounds better than all other jobsite radios.
As a PB Swiss fanboy (I blame Toolguyd!), I see there's now an Insider Stubby Ratcheting Screwdriver, among the PB Swiss new stuff for 2017. This could be worth reviewing, next time there's a Toolguyd review of ratchet screwdrivers or EDC tools.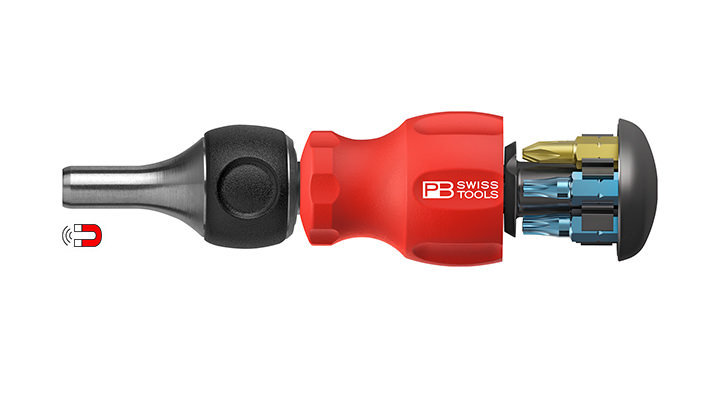 How about extensive reviews on the Makita subcompact kit and the Hitachi Triple Hammer? Allusions have been made that reviews are forthcoming but those were months ago. Here's hoping!
Mr. TOOL GUYD
Please: Information about floor and table DRILL PRESSES.
THANK YOU:
Hi Stuart, Ben. I know you're probably very busy, especially now with​ nps 17, but would you consider reviewing ISOtunes pro earbuds. Thanks.
I'm actually in the market for another Bluetooth hearing protection solution myself. My previous kludge stopped working and I've had to go back to ear buds under hearing protectors – which frankly sucks.
The ISOtunes have been on my radar and I've been watching what the other tool reviewers think. I've seen a lot of "oh, I'm trying out these ISOtunes pro ear buds today," but I haven't seen anybody actually follow up and say how they worked.
When we were hanging out at the airport after the Milwaukee event, Paul (Toolpig) let us try his Bose noise canceling headphones, so now I've been spoiled. I think they were these ones:
I'm not sure if they were the 25 or 35s
Hopefully the new Dewalt 20V chainsaw (DCCS620) and 20V fan (DCE511) are on your to-do list.


I'll second the OBD too thing - with a side flavor of Mobile app tools. I recently bought the OBDlink system of BT scanner - there are many out there. But also a few devices like the NEW Innova handheld and Autel devices. That supposedly scan everything a Tech 2 or Ford Diag will do on cars older than 2014 - with updateable software. Just like the new Tech 3 standard.
Anyway - There are some new things out there in ODB scanners and if you work on cars as Hobby or Shadetree it would be nice to have a concentrated roundup. And I would offer to help if you wanted. I bet there's a few others that would as well.
ALso wouldn't mind a review of OPE cordless like the Dewalt vs Echo vs Ego ____________ whatever but that might be too subjective.
Uhm A new run at Ratchets IE basic hand ratchets. ONly because I am looking to replace 2 and don't want to just punt to Proto or Snap ON for that. (or MAC I guess I should also throw MAC on there).
Maybe Other automotive tools - LIke Jacks, or Impact Wrenches - or something along those lines.