Hi, I'm building 4 lighting fixtures to use with my rock n roll band. They are aluminium extrusions 2m (6') long by 75mm (3") by 35mm (1.25") high. I have filled them with LED strips which are individually controllable.
They are originally designed to be hung from the ceiling via the t-slot on the back. I want to mount them vertically on their end. I need to be able to transport them easily in a car, so lightweight is a must. They will be at the back of the stage facing forwards, so not anywhere the audience could knock them over.
I had 3 ideas, inspired by the extrusion fastening articles on here recently.
Here are 3 very bad sketches of what I had in mind.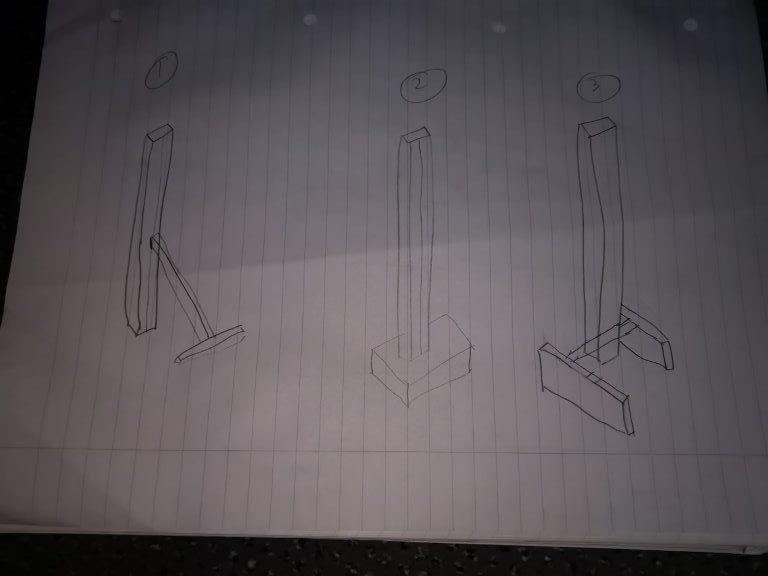 20x20 extrusion profile for the leg + cross piece, + a pivot hinge with clamp lever. like this https://www.motedis.co.uk/shop/Dynamics-Basics/Articulated-joints/Pivot-Joint-20-with-clamp-lever-M4-B-Type-slot-6-used::999993979.html. Ideally I need the cross piece to fold against the leg for easy transport.

Box base. I prefer this type as I can hide some electrical items in the box. I have 2" x 3" stud framing timber, and also OSB or plywood available. I am not sure how best to make a "shoe" to support the end. I think I need 150mm (6") of the fixture to be inside the box for support. I could use combination of 1 and 2 to give me a small base with fold out support. I could make this frame out of extrusion possibly.

Considering using 80 x 20 extrusion to build legs that slot into the T-Slot in the back of the fixture. This doesn't give me a box though to hide the electricals in.
Interested in thoughts on how to keep these lights stable on end!
Cheers!