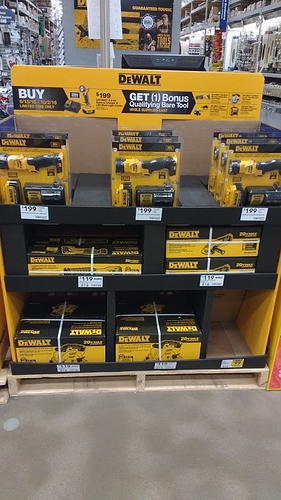 UPDATED WITH LINK PLEASE NOTE ONLINE PURCHASE INCLUDES RECIP SAW ONLY OTHER ITEMS MUST BE BOUGHT IN STORE
http://www.lowes.com/pd/DEWALT-110-Lumen-LED-Handheld-Rechargeable-Battery-Flashlight/1000092703
Was in my local Lowes today and saw this buy the kit get a bare tool sale… I almost jumped right on it for the circ saw, thinking this was for the 4th July sale only but stopped short(summer taxes due really soon), please note the dates! 8-15 to 10-2!
I was also in another Lowes in the next city west today and no signs at all.


Of Note as well the included Charger is the DCB115 (New version of the DCB101(The fast one))