Charles post about his EDC experience and journey inspired me to post about my EDC.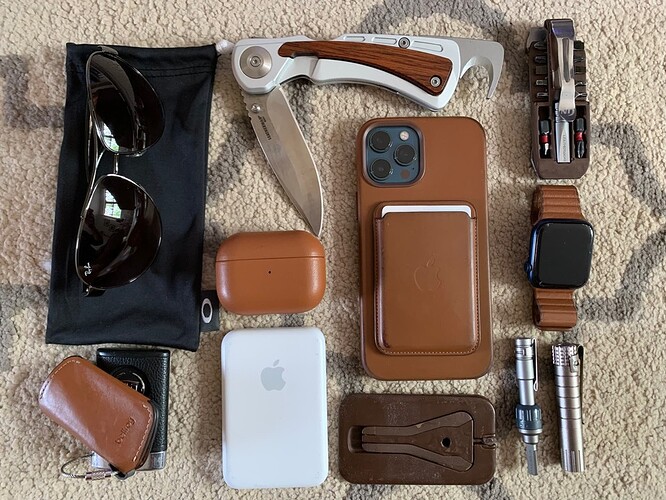 I have spent several years curating my everyday carry, often feeling as though my setup was perfect to only encounter another scenario for which I was unprepared for. As someone who leads a minimalist lifestyle, just adding a cable or piece of gear isn't an option for me. As such, my requirements when considering a product is that it serves the following characteristics: multi purpose, lightweight and where possible be part of an existing lineup or made by a manufacturer I trust. Now let's get to the gear.
Please note that I have purchased all of these items with my own money and have not been offered compensation for this post.
iPhone 12 Pro Max: at the time of release I believed it to be the best smartphone ever made and only outdone by the iPhone 13. I appreciate the larger format of the Pro Max model and MagSafe is truly one of the best innovations in the past few years. Being able to pair my phone with the Apple wallet and as my needs throughout the day evolve- throw on the MagSafe battery is uber convenient. I do wish the MagSafe battery allowed you to charge other devices by plugging in a USB C cable. For this reason I have considered switching to Anker's MagSafe battery. We'll see.
Pairing my phone with the AirPods Pro is a natural extension of the Apple ecosystem for me. While others may argue that the sound quality doesn't suit your style, the cost is significant and the noise cancellation isn't the greatest- I disagree in that the combination of features, form factor and native integration with the Apple ecosystem delivers for me.
Complimenting my iPhone and AirPods is the Apple Watch Series 6. It's a natural extension of my on person tech and overall Apple ecosystem.
My EDC knife of choice is the Leatherman Klamath. A hunting knife, this beast weighs 8.8 oz and is 9.5" long when open. [insert Crocodile Dundee "That's not a knife, that's a knife"]. It has a gut hook which can function as a seatbelt cutter and it's own built in sharpening rod. It is my 'grail' for a knife and I love it so much that it breaks all my minimalistic desires and I don't care.

Rounding out the tools on my on person carry is the CRKT Pocket Driver Stash Tool, Leatherman Bit Kit, LM Ratcheting Bit Driver and LM Piranha. I fitted the bit kit with both a Nightize Hip Clip and a strip of magnet tape. This has allowed me to create a compact package and carrying solution for the Piranha.
In the CRKT Pocket Driver Stash Tool, I keep a stubby drill bit, a double ended eyeglass screwdriver, a long Leatherman double sided bit and Firefly Fire Starter.
The other item in my pocket is the Top Peak Mobile Tripod. I recently wrote about the modifications I made to the tripod in an Amazon review… excerpted below.
Blockquote
"As for why I purchased the tripod; I often use the Moment MagSafe tripod mount during outings with my daughter. Paired with a selfie stick with tripod and my watch; I'm able to take picture of us wherever and whenever. At times though the setup is clunky and even unnecessary. So I started looking on Amazon and was going to get a smaller tripod- enter the Top Peak. I no longer have to worry about carrying around a full tripod and will be able to leverage a table or ledge, as needed, to position the camera higher. I'll also always have a tripod in my pocket and an added bonus is it is great for using as a stand for me phone. This did get me thinking, what about the times I do need a tripod? I won't want to carry both setups. Wouldn't it be great if the Peak Design could also accept a standard 1/4" screw found on most tripods. Looking at the Top Peak, I found that The main support leg, is the exact thickness as a 1/4" #8 nut. Mounting the but to the surface was an option but then the tripod wouldn't be as sleek and would eliminate some functionality. I realized I could drill a hole in the leg, while sacrificing the key to tighten the mount. I don't see myself having to do that repeatedly now that I set it. And the benefit of being able to downsize my overall EDC and pair the Insta 360 self stick with built in tripod with the Top Peak seemed like a great alternative. So I drilled a hole in the center of the leg to accommodate the 1/4" nut. It fits perfectly, almost as designed that way (hint hint for v 2.0) There are other ways that this could be accomplished. For instance, I don't have the tools, and although I know it can be done, I've never tapped metal before to thread it. This would eliminate the need for a nut and the removal of as much material from the support leg as I did. At the same time it runs the risk of there not being enough material as there is a cavity where the key was stored. Anyway, I bonded everything together with JB Weld steel and then refinished to match the aesthetic my EDC" > Blockquote
Finally, I leverage the Bellroy key holder to manage my keys and a pair of RayBan aviators to protect my eyes.
Let me know what you guys think. I don't have a dedicated flashlight. For as infrequently as I need one my phone has worked out well. I also forgo a set of pliers…… I used to carry a Leatherman Wave and found I hated using the pliers more than I missed not having them. I want to buy a pair of the Knipex 5" pliers, but I haven't determined a good way to carry them. Perhaps in the future.