Okay, this is not about tools, but you guys have been really helpful in the past, so I'll give you a shot again. Bear with me as a describe a slightly complex issue.
I am now in charge of a science lecture series, and part of my job is setting up the PA system. The speakers go on folding speaker stands.
The stands have three legs that are mounted to a collar that slides up and down the main shaft (folding music stands work the same way.) The sliding collar is some kind of plastic, with two ears separated by a narrow gap, one ear with a hole and the other with a captured nut. A bolt with a knob handle enters one hole and threads into the captured nut, and you hand-tighten the knob to secure the collar. The threaded shaft or bolt is tangential to the main shaft, so that tightening it makes the entire collar squeeze the shaft on all sides. Here is a photo of something similar (thanks fred!)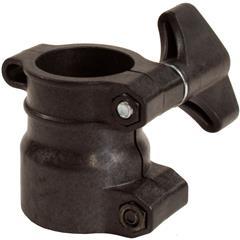 The problem is that when the collar is tightened and the gap between the two ears shrinks, the two ears go out of parallel. That puts a remarkably strong bending force on the bolt. Over time the bolt bends, eventually making it impossible to turn.
So any ideas on how to prevent that problem? I have thought about replacing the captured nut with a threaded ball, or a rod threaded transversely, so it acts like a pivot and the bending forces are released. But the holes themselves are fairly long and tight, and I might have to enlarge them so that the ears can't bend the bolt. But that seems like a clunky solution.
Any better ideas?