Recently a photo of the new Craftsman Battery terminals was posted which appears to show yet another battery configuration with switched polarity but the same 4 connector terminal as the other SB&D lines. I've attached an image here:.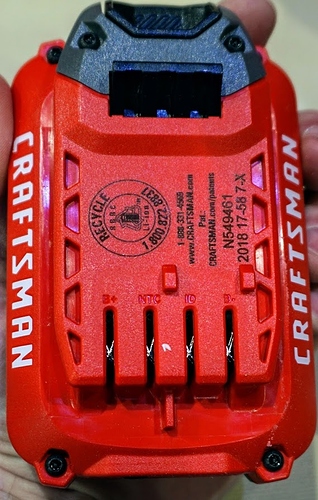 While I never got caught up in the 18V to 20V Porter Cable switch, I did however buy a 20V Stanley FatMax Hammer drill at Walmart which is still working well today and later on buying a 20V Porter Cable drill and impact driver. I also have a 20V B&D weed eater. I bought the B&D weed eater after realizing I could make the batteries work from the Stanley and the PC which are the easiest batteries to get to work on other SB&D lines.
While I understand SB&D wanting to maximize profit and other reasons for making batteries not work among the low-tier lines (non-DeWalt lines), I also think they are hurting themselves by not making batteries compatible among these lines since you can't buy a Porter Cable weed eater, etc among different lines. I fear with the new Craftsman tools coming out the 20V Porter Cable line will be killed off along with the easiest battery to modify (or tool modify) to get to work among along these lines. I assume the 20V Porter Cable batteries will still be available for a while to come.
I assume the new Craftsman line based on what we have seen will be positioned from high to low tier and will offer tools with a complete like Ryobi with everything. i.e. - I have not seen a 20V B&D wet/dry vac like Porter Cable, DeWalt and Ryobi. Nor have I seen a 20V Porter Cable weed eater, etc.
It's just the abandonment issue with the constant changing of batteries and lines that drives customers elsewhere. After introducing the Stanley Fatmax tools in the USA at Walmart, etc. (copies of Porter Cable). SB&D decided to stop the Stanley Fatmax 20V line in the USA. Now they have the B&D line and 20V Bostitch line at Walmart but for how long?
Oh Well at least they are moving some manufacturing to the USA.