Who still makes high quality hacksaws? Can anyone recommend a mini or junior hacksaw that's good? (I'm in the UK.)
Thanks, I'll check out that Milwaukee hacksaw frame.
Does anyone know which would be the best choice of blade for cutting metal (solid metal spindles, about 1cm thick)?
The Bahco range of hacksaw blades is quite broad, but it's not obvious to me which would be best for cutting solid metal. Can anyone help?
Thanks Fred. Interesting that one of the hacksaws has a blade with 24 TPI. I wasn't sure which blade would be best for mild steel (18, 24 or 32 TPI). Can anyone advise?
Klein can be hard to get in the UK, but that particular hacksaw looks a bit like the Stanley FatMax 5-in-1 Hacksaw. (I think FatMax hand tools are branded DeWalt in the US.)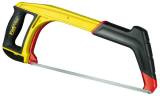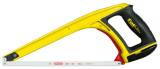 "Does anyone know which would be the best choice of blade for cutting metal (solid metal spindles, about 1cm thick)?"
For that thickness of material - I'd try a 18tpi bi-metal blade. I'm not sure about Bahco blades tooth set - but what we call "wavy set" is generally best for solid metals
I have one of the Lenox saws at home, and another one at work. The frame is really solid, and there's storage for spare blades inside the top bar.
of the hacksaws I have in my shop all are lenox but one and that one came in a kit from Stahlwille. If you are in europe you probably heard of them.
I use lenox blades in all of them. might be personal preference or just my history but I use lenox blades almost exclusively for hack saw and my sawzhall (reciprocating).
I can tell you that particular saw is rather good. I have the DeWALT version, which has a few ergonomic upgrades, but is barely distinguishable from the Stanley version. It is literally down to the ergonomic shape of the black areas. The DeWALT one has more grip, the Stanley one is sleeker. But they're the exact same saw. I kinda nickname it the Voltron Saw.
For mild steel, BiMetal 18 tooth wave pattern serration. It's probably the most aggressive fine-cut metal blade you can find in ANY line of blades. So, it doesn't matter which brand you can find it in, at any level, the Bi-Metal, 18 Tooth Wave Serration blade (Probably the 12" if we're talking the Klien or SBD Voltron Saws Tee Hee ) is the right blade for your application. And if the cheap one doesn't do it? It was cheap, so no big loss. Go get a better brand, and keep trying until you find one that fits both your cost and time restrictions. That solves the problem of us being on different continents, using different brands. Go by the specs, and let the brands available to you dictate what brands you try. Ordering them online, and expecting them to ship overseas, is going to cost you time and money you may not have.
But, don't ignore everyone else! They are really feeding you great advice, worth listening to!
We don't have Lowes in the UK.
It is very good, very solid.
https://www.powertoolsuk.co.uk/stanley-5-20-531-hacksaws.html
But these are all hacksaws, you need a mini hack saw which is 6" blade not 10" or 12" blade hacksaw.
This is made by Facom made in France. There are VDE versions from Elora and NWS but approximately £50 each.